Linestop Pipe Plugging Services
Call Toll Free 1-800-221-3332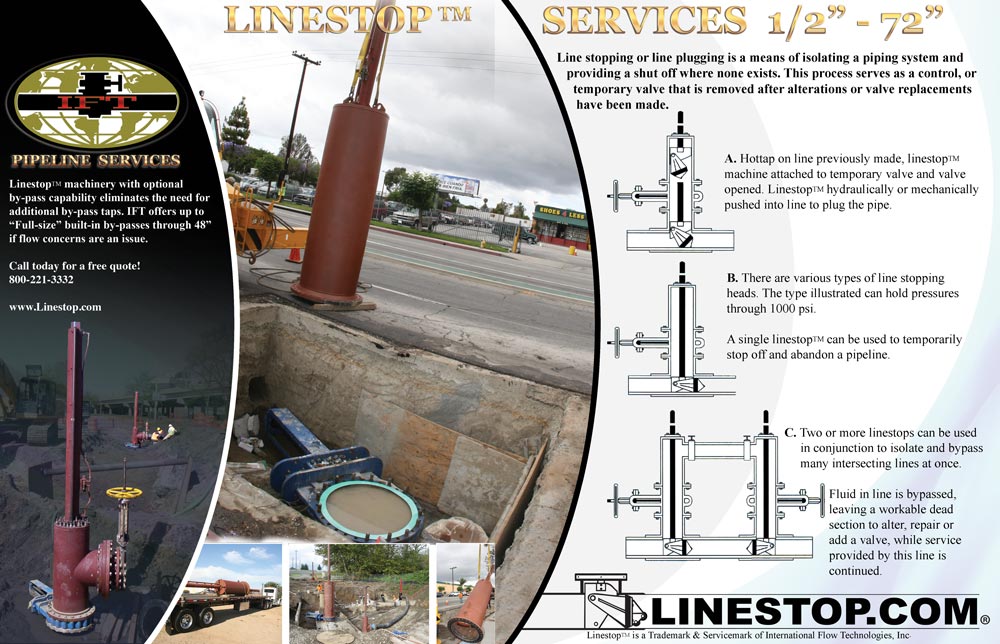 Line stopping or line plugging is a means of isolating a piping system and providing a shut off where none exists. This process serves as a control, or temporary valve that is removed after alterations or valve replacements have been made.
1. A pipeline tap is made and the coupon is retained before the Linestopmachine can attach to a temporary valve that is closed and opened after pressure tests and equalization. The Linestop machine uses hydraulics to mechanically push the plug into the pipe.
2. There are various types of pipeline plug heads. The linestop pipe plugging head illustrated can hold pressures through 1000 PSI. A single linestop can be used to temporarily isolate a pipeline system with no downtime using our built-in bypass features.
3. Two or more linestops can be used in conjunction to isolate and bypass many intersecting pipelines at once. Fluid in the pipe is by-passed, leaving a workable dead section to alter, repair, add a valve or other modifications are being performed.
24" Linestop on the 90 Degree Bend Valve Replacement Services at the Rancho California sewage treatment plant in Murrieta, California. They needed International Flow to performed this unusual 24" Linestop™ on the 90-degree bend. This video shows this 24" Linestop™ that allowed the Sewage treatment plant to remain in service while changing out their broken plug valve. IFT designed changes to its machinery to allow this type of line stop and successfully plugged the elbow. The valve was replaced under pressure as you will see in this video. The linestop was installed with a 100% fluid tight shut down and the large 24" broken plug valve was replaced. After the project, IFT was contracted to replace 3 additional 24" valves on similar 24" elbows.
FREE QUOTE
Call Today for Your Free Quote
Free Quotes: 1-800-221-3332 • Anchorage, AK • Delaware, DE • New Orleans, LA • Oklahoma City, OK • Houston, TX • Nashville, TN